Description
4angle coffee table
The MDF table top is varnished in black.  Metal legs are fully following the lines of the legs on upholstered elements from the same collection and thus make it an ideal member of this family.
to:  MDF lacquered
legs: metal coated
dimensions:  43.5″w | 13.5″h | 23.5″ d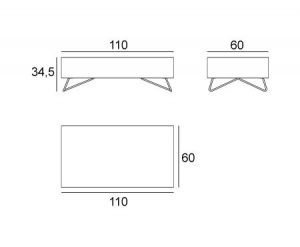 designer
prostoria design team
Since its beginnings, prostoria is design oriented and develops its values through design. Moreover, we are not just cooperating with designers, but are aware that design management is essential for a more efficient design use. By establishing partnerships that reflect our strive for quality and long-term use of our products, we are open for ideas that contribute to this goal, equally working with established experts and young ones, at home and abroad.
Collection
Prostoria
Founded in 2010 in Croatia, Prostoria delivers functional furniture with beautiful aesthetics.
Prostoria's vision is to create upholstered furniture that will enrich your everyday home and work interactions. The form of Prostoria products thus follows its function, while they treat aesthetics as an essential human need.
At Prostoria, people are creating for people, researching, exchanging ideas and knowledge of craft, employing technology and materials – all this to express the passion and the heritage of each of us.