Description
cube highback
When you need to rest for short time, when you need to get refreshed in little more private seat, cube is a great option for that. Especially high back version is better in privacy and style. Cushions can be ordered in same fabric with frame or in different fabric. If two high back Cube sofas placed face to face, that will create a nice looking small meeting space. The softened pillars like in the Cube Sofa offer a comfortable session to the user in a clearly defined volume.
In crowded environments for projects, it is recommended to create special meeting areas that will provide sound insulation and privacy. It allows employees to be emancipated in the office. It makes it easier to design spaces for individual or group time.
features
Very stylish, slim design.
Suitable for heavy commercial use.
Polished, matt or powder coated steel legs.
Commercial grade high quality foam.
Different arm and back options.
specs | stock
Dimensions:
Single: Inches 30w | 28d | 48.5h | 16.5sh
Double: Inches 56w | 28d | 48.5h | 16.5sh
Availability: Special order only. Lead time 8-10 weeks.
For fabric selection please check here: Material options.
COM/COM yardage requirement:
Cube Single: 8 yards for fabric. 12 sq. yard for leather.
Cube Double: 12 yards for fabric. 17 sq. yard for leather.
PRODUCT DATA SHEET (Measurements in this data sheet are in centimeters)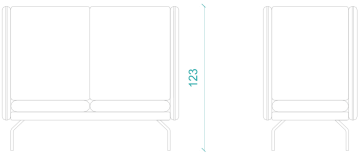 designer
B&T Design Team
B&T Design Team is a team of architects, engineers, welders and carpenters all work at B&T's own factory for long time. Any piece designed, developed by this team is result of long discussions, many sketches and in some cases after trashing dozens of prototype products. The result is always very well made, carefully tailored, flawless pieces. B&T supplies many projects in Japan, Australia and Europe. Most of these projects have custom designed pieces developed by B&T Design Team. Hence, the team influenced a lot from Japan's pure minimalism and Europe's sense of aesthetics.

collection

B&T Design
Talip Aysan founded his Istanbul based company B&T Designs in 1993. At the heart of their brand were three key words: "better", "desirable" and " worthy". They would go on to build their, now, global company on those words and ideals. The result was a line of instant classics that can be appreciated by any design fan.
High quality commercial grade, fresh, minimally designed, very unique line of collection.
Today, B & T exports stunning modern products to over 50 countries including the United States and Canada. Their design team of top Turkish and European designers such as Alp Nuhoglu, Tanju Ozelgin, Sezgin Aksu, Silvia Suardi create groundbreaking modern designs such as the Green Lounge Chair, Pop Modular Sofa, Pera Chair Range, Absolut Table, Morph Sofa and so on..