Description
diamond ta rocker chair
The Diamond base is inspired by the facets of a cut diamond, creating a similar play of light. A simply sophisticated piece of furniture, perfect for modern and minimalist settings.The purity of the concept, and the high-quality design, combined with complex lines that create a light and luminous metal structure, creating a modern and sophisticated silhouette.
Ta, monosyllabic sound, as simple as the first word of a child, in Chinese, means both him or her, exactly the same, human identity regardless of gender, universal. And the chair is, in fact, a human object, moulded around its use. It traces the profile of the body, eating or working at the table. It allows a resting position, halfway between a state of wakefulness and sleep, moments spent waiting or enjoying company. With Ta, Simone Viola wanted to offer an elegantly simple answer to the demand for ergonomics and aesthetics. Its design is inspired by the style of the 50's but with a touch of absolute contemporaneity, that of honest and democratic design, made possible by an advanced but relatively simple construction technique. Available in a wide variety of solutions, its strength lies in this flexibility. Three solid, flowing and sinuous shells for completion with five curved metal tubular bases with wooden elements, characterized by essential design. The range of colors proposed reflects a contemporary taste, with the possibility to add seat pads to the shells, making it possible to create numerous customized combinations.
With a nod to tradition, the Diamond TA rocking chair combines a highly modern design, with a whimsical, retro touch to create an accent piece with a unique personality.
© Diamond Rocker base design by Stolt Design.
© TA Seat design by Simone Viola.
---
CATAS certified for contract use. 

80% polypropylene, 20% fiber-glass. 

6 different shell colors to choose from. 

Chrome plated, White powder coated or Black powder coated metal base with walnut runners.

Seat cushions available at added cost.

Suitable for: Dining / Cafe / Restaurant / Meeting rooms / Conference
Dimensions: 23″ W | 25″D | 30″ H | Arm height: 24″ | Seat height: 18″
Availability for Quick ship: 
Shells: White, black, red, ocean blue, dark grey, light grey, mustard, cream in stock. 
Bases: Chrome, black solid metal base in stock. 
Runners: Walnut stained ash wood.
Seat pads (sold separately): Mustard, red, turquoise, brown, gray, dark grey, black.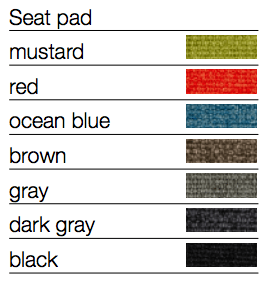 ---
designer
Stolt Design Group
Stolt Design Group is a young and open-minded design trio based in Oslo, Norway. Stolt Design is created by three fellow students graduated from the department of Product Design, at Akershus University College. The designers share both knowledge and passion for their work.They approach their designs from a problem solving point of view, and work to design long-lasting products to market with an eye for quality, functionality and high user value.Stolt Design uses the company as a platform to promote both individual and collective work, and uses each other for quality assurances of the designs.
1f
Simone Viola was born in Mendrisio, Switzerland, in 1985. He studied industrial design in Milan and soon began to collaborate with prominent Italian and international architecture and design studios. In 2011, these experiences led him to open his own studio in Switzerland, specializing in industrial design and interiors. The décor sector became his main area of interest and experimentation, and his personal tastes began to emerge: a strong inclination towards clean lines and artisan workmanship.
His efforts are mainly devoted to an ongoing search for functional simplicity, in which design becomes the expression of a personal style while serving a practical purpose. This confluence gives rise to minimalist, ergonomic shapes, intended to decorate living spaces in a recognizable manner. To this end, Simone Viola personally oversees all the stages of creation and production, scrupulously overseeing every detail in the entire process.
---
collection
Kubikoff
Kubikoff Srl was launched in 2004 by the Lemson Brothers. Kubikoff Srl is a company that is making its way in the field of design, thanks to modern and innovative ideas, and a high-quality production.
Kubikoff Lab designs and creates products that are constructed with a careful attention to details, using the newest techniques, to guarantee the highest comfort and functionality.
At the heart of Kubikoff Lab are the master upholsterers, who pad and line the entire collection. Kubikoff upholstery is entirely handmade, with extreme attention to trims and finishing details, and to the selection of the most innovative materials and fabrics, to guarantee comfortable, functional and elegant products.
Combined with the great professionalism, and technical knowledge of the Kubikoff Lab master upholsterers, are the innovative ideas of European designers, who apply their efforts to design modern, captivating furnishing elements.
---