Description
go large
Go Large is focused on confortable lounging. Upholstered armrests wrapped around exposed stainless steel frame. That contrast provides very unique look for this sofa line. Single, double, triple versions are available. Go Large sofa family can be ordered with contras color smaller pillows. Made out of commercial grade polyurethane injection molded foam molded together with steel frames and steel springs. Metal profiles used on Go Large legs shared with Santa table group. This sofa range maybe great match if it is used in same space together with Santa tables. With its innovative design Go Large is very suitable for modern lobbies; waiting areas, break rooms or any contemporary designed homes.
features
Polyurethane bedding is injection molded into a metal frame
Upholstery options: Fabric, leather or artificial leather
Choices of upholstery are natural or artificial leather or premium fabrics.
Can be special ordered (COM/COL)
Suitable for both residential and commercial use
Availability: Special order only. Lead time 8-10 weeks.
For fabric selection please check here: Material options.
specs | stock
Dimensions:
Armchair: Inches 32w | 33d | 24h | 15sh
Loveseat: Inches 65w | 33d | 24h | 15sh
Sofa: Inches 92w | 33d | 24h | 15sh
COM/COL Requirements:
Armchair: 6 yards fabric, faux leather. 9 sq. yards for genuine leather.
Loveseat: 9 yards fabric, faux leather. 14 sq. yards for genuine leather.
Sofa: 6 yards fabric, faux leather. 9 sq. yards for genuine leather.
PRODUCT DATA SHEET (Measurements in this data sheet are in centimeters)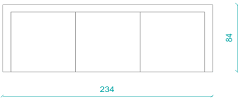 designer
Tanju Ozelgin
Born in 1962, in Istanbul, Tanju Özelgin graduated from the Faculty of Fine Arts Industrial Design Department of the Marmara University in 1984. In 1987, Tanju Özelgin founded Scala Design, and 1987 he designed and implemented projects for fair stands, yachts, showrooms, homes, offices, publicity campaigns, furniture and industrial products.
Between 1993-1995, he worked with IN Mobilya (IN Furniture), of which he was a founding partner and cofounded Parlak Kırmızı (Bright Red) in 1996 with Ertan Binme, where they concentrated on interior design projects and applications, designs and development of industrial products, preparation of digital and video graphics. Since 2005, he continues his work at TO Design Studio, which focuses on interior design and industrial product design. Özelgin also continues to work as faculty member and project counselor since 1998.
He is a jury member, exhibition participant and workshop manager in many competitions.
collection
B&T Design
Talip Aysan founded his Istanbul based company B&T Designs in 1993. At the heart of their brand were three key words: "better", "desirable" and " worthy". They would go on to build their, now, global company on those words and ideals. The result was a line of instant classics that can be appreciated by any design fan.
High quality commercial grade, fresh, minimally designed, very unique line of collection.
Today, B & T exports stunning modern products to over 50 countries including the United States and Canada. Their design team of top Turkish and European designers such as Alp Nuhoglu, Tanju Ozelgin, Sezgin Aksu, Silvia Suardi create groundbreaking modern designs such as the Green Lounge Chair, Pop Modular Sofa, Pera Chair Range, Absolut Table, Morph Sofa and so on..