Description
joi thirty six stackable indoor – outdoor chair | design simone viola
Think of a chair. An everyday object made invisible by continuous use. A light piece of domestic furniture in which comfort has the equal aesthetics. And what is a chair good for if not to sit down to eat, talk, wait, rest and live life? We have traced the identity of our ideal chair to create the profile of a happy, joyful object which leads automatically to evenings in the company of friends, with the family at home or in the garden, to moments in which chairs are moved to make room for a new arrival, to stack them easily at the end of the day or leave them outside overnight in the rain. An object without boundaries other than the need to be practical, comfortable and user-friendly. The Joi collection is a tribute to one of the greatest masters of the 20th century: Hans J. Wegner. A thought which flows along the same guidelines of beauty, simplicity and ergonomics. A decisive line traced by the imprint of great, proudly modern Nordic design, because real design follows life as opposed to fashion.Joi combines all of this with advanced construction techniques which allow accessible and flexible production in a variety of versions. Its main feature is the joint which allows the creation of three different chairs, inserting backs characterised by different personalities, uses and vocations. The choice of colors also pursues the consistent thought of a determined but flexible object. With four different colors for the structure and five fabrics for the removable seat cover, the Joi collection allows a wide variety of combinations suited to identifying the right mood for the setting in which it is going to be used.
---
Measurements: Inches 22w | 21d | 32h | 18.3 seat height
Availability: All shell and base color options listed on the data sheet are in our North America stock program.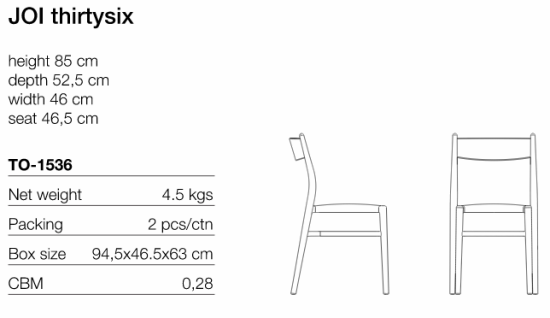 [embedyt] https://www.youtube.com/watch?v=-uZ1vGyBD9k[/embedyt]
Stackable up to 4 chairs.

Components: 85% Polypropylene / 15% Fiberglass Shell

Washable Frame and cover with UV Resistant

Frame is available in 4 different color options

Seat covers are offered in 5 different color options

Seat covers are made with 100% Sunbrella Acrylic

Removable, washable, waterproof and UV protected covers

Warranty: Three year warranty against manufacturer defects
designer

Simone Viola
Simone Viola was born in Mendrisio, Switzerland in 1985.
After a rigorous training in industrial design in Milan and through his collaboration during various architectural and design studies, he began to gain experience in Switzerland and abroad. In 2011, he founded the Simone Viola Design Studio, focusing on industrial projects for furniture and accessories. His philosophy leans toward research on the materials and technical aspects related to the development of the project, conceptually guided by historical and artistic references. This approach produces the most natural connection to contemporary design, where the object is not the expression of a trend, but a long-lasting fusion of form and the intended use. Soft, natural elegant shapes and an elevated attention to details characterizes his work and a continuous optimization of the development phase allows the realization of high quality and generously accommodating products.
---
collection
TOOU Design
TOOU is not just a producer. We strive to create objects through projects and a production that put people at the heart of things, all people. Our design is democratic, accessible and customizable.
Our dynamic design combines contemporary taste with the tradition of the great design schools of the twentieth century. We materialise projects where technology is deployed in the service of the end user, through optimized processes that produce comfortable, safe, and beautiful objects that are as aesthetically pleasing as they are practical.
Our primary aim is that each object is desirable, affordable and customizable, with a range of materials, shapes, and colors that can transform a mass-produced product into a highly personal one.
Our métier is creating objects that are durable in their design and aesthetics, and that are never superfluous accessories designed for facile consumption that is dominated by ephemeral trends.
Our items are everyday items that will become a familiar and comforting part of your day-to-day life, with features and profiles that will be the companion to your domestic environment.
TOOU, dedicated to you.
---