Description
oblique chair | design numen/foruse
The basis of the system is the characteristic profile of a sofa which, defined by two triangular prisms, ensures maximum foam thickness on the rear of the seat and the backseat's lumbar area. The structural veneer moulding is bent around two axes and is upholstered together with the foam, resulting in a unified pulsating form.  As a result of the triangulation, the solid oak legs thin towards the bottom, thus transforming the square cross-section of the top of the legs into their bases' triangle.
---
structure: metal structure and molded polyurethane foam
frame: solid white oak
upholstery: fabric or leather
dimensions: 18″w |23″ d  | 35″h | 18″sh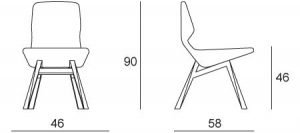 Oblique collection has been completed in its uniqueness. The pulsating form of an armchair on the chair has had its full affirmation, and with its reduced volume communicates in different style context. The character of the entire collection has been mostly expressed with the Oblique table. Specific geometry of the legs made of massive oak in combination with the floating white tabletop in this dimension is simply perfect.
designer


 Numen/ForUse
NUMEN/FORUSE IS A CROATIAN-AUSTRIAN DESIGN COLLECTIVE WORKING IN THE FIELDS OF SCENOGRAPHY, INDUSTRIAL AND SPATIAL DESIGN AND CONCEPTUAL ART. THE GROUP WAS FIRST FORMED IN 1998 AS A COLLABORATIVE EFFORT OF INDUSTRIAL DESIGNERS.
Under the banner ForUse they designed for Cappellini, ClassiCon, Desalto, Interlubke, Magis, mdf Italia, Moroso and Zanotta. Numen/ForUse designs interiors and outdoor spaces in cooperation with architecture studios 3lhd (Croatia) and Imarea (Austria). In 2008 the collective turns its focus towards configuring objects and concepts, an activity resulting in more hybrid and experimental works such as the Numen-Light series, Tape Installation and Net. From 2004 onwards, they became intensely involved with scenography. Numen/ForUse are the only Croatian contemporary product designers whose works are regularly represented in global anthologies of contemporary design.
collection
Prostoria
Founded in 2010 in Croatia, Prostoria delivers functional furniture with beautiful aesthetics.
Prostoria's vision is to create upholstered furniture that will enrich your everyday home and work interactions. The form of Prostoria products thus follows its function, while they treat aesthetics as an essential human need.
At Prostoria, people are creating for people, researching, exchanging ideas and knowledge of craft, employing technology and materials – all this to express the passion and the heritage of each of us.