Description
pil-low sofa bed | design redisign
Pil-low sofa-bed design is based on a specific relationship between seat, back and pillow in which pillow takes double function – while at sofa position it improves seating ergonomics, in bed position it serves for sleeping area width enlargement. Common decorative pillows which are placed and used to improve comfort are no logner necessary. Innovative tilting mechanism was designed to enable easy one hand sofa-bed transformation. In the first stage of opening, initially completely invisible storage space becomes available. Outer shape is designed to perform equally well in various settings, as a freestanding sofa or with backrest next to a wall.
---
---
[embedyt] http://www.youtube.com/watch?v=0DEPfOGO5jM[/embedyt]
structure: solid wood, plywood
suspension: springs
seat cushion: HR foam, polyester wadding
support cushion: HR foam, polyester wadding
legs: metal  |||  upholstery: fabric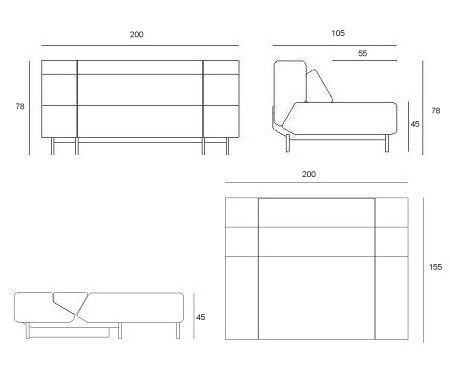 dimensions:  79″w | 31″h | 41-61″ d | 18″ sh
---
Pil­low is a multifunctional sofa based on a specific relationship between the seat, backrest and pillows. The form of the sofa has been designed as a complete spatial object and functions equally well freestanding in space or next to the wall.
---
designer
redesign
IN THEIR DESIGN STUDIO NEVEN AND SANJA KOVACIC ARE INVOLVED IN INTERDISCIPLINARY DESIGN PROJECTS AT DIFFERENT FIELDS OF DESIGN WITH THE EMPHASIS ON CREATION OF PRODUCTS AND INNOVATION.
Their active interest in various aspects of technology and society so far resulted in a broad spectrum of completed projects: from recyclable cardboard shelf system to sophisticated test and training sports equipment. Their work is characterized by ecological responsibility, rationality, multifunction and modularity.
---
collection
  prostoria Founded in 2010 in Croatia, Prostoria delivers functional furniture with beautiful aesthetics.
Prostoria's vision is to create upholstered furniture that will enrich your everyday home and work interactions. The form of Prostoria products thus follows its function, while they treat aesthetics as an essential human need.
At Prostoria, people are creating for people, researching, exchanging ideas and knowledge of craft, employing technology and materials – all this to express the passion and the heritage of each of us.