Description
up-lift sofa bed |
design
redesign
UP-LIFT represents innovation in armchair typology with its integrated bed. Its shape allows for transformation through the simple raising UP of the back rest, which causes the automatic LIFT of the leg rest, whilst maintaining an optimal height. Its harmonious form consists of two separate volumes, which rotate around each other in an eccentric fashion. The armrest is curved, as it also functions as a wheel, and the backrest is tilted and rounded to minimize the volume. These curvatures are what characterize UP-LIFT. Besides its specific rotation, harmonious ergonomics and shape, every detail of UP-LIFT has been carefully thought out and designed. Special attention was given to the lower construction. Elastic bands and high quality foam placed at strategic points allow for maximal comfort and minimal bulk. In addition to the armchair, the UP-LIFT family also includes a love seat, which unfolds into a double bed. Together or apart, they allow for free furniture configuration, and their dual functions provide interesting interior layout scenarios that call for additional sleeping furniture.
[embedyt] http://www.youtube.com/watch?v=qL8mFtXalpQ[/embedyt]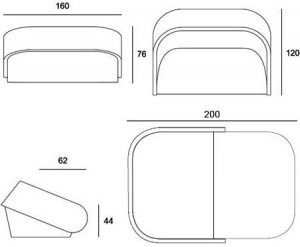 structure: solid wood, plywood
suspension: elastic bands
seat cushion: HR foam, wadding
support cushion: HR foam, wadding
upholstery: fabric
dimensions:  63″w | 30″h | 47-79″ d | 17″ sh

Up­-lift collection brings innovation in the segment of functional sofas. The simple raising up of the rounded form of the back rest causes the automatic lift of the leg rest turning it into bed. Apart from the armchair, the Up­lift collection also includes a 2seater sofa.
---
designer
 redesign
IN THEIR DESIGN STUDIO NEVEN AND SANJA KOVACIC ARE INVOLVED IN INTERDISCIPLINARY DESIGN PROJECTS AT DIFFERENT FIELDS OF DESIGN WITH THE EMPHASIS ON CREATION OF PRODUCTS AND INNOVATION.
Their active interest in various aspects of technology and society so far resulted in a broad spectrum of completed projects: from recyclable cardboard shelf system to sophisticated test and training sports equipment. Their work is characterized by ecological responsibility, rationality, multifunction and modularity.
collection
  prostoria Founded in 2010 in Croatia, Prostoria delivers functional furniture with beautiful aesthetics.
Prostoria's vision is to create upholstered furniture that will enrich your everyday home and work interactions. The form of Prostoria products thus follows its function, while they treat aesthetics as an essential human need.
At Prostoria, people are creating for people, researching, exchanging ideas and knowledge of craft, employing technology and materials – all this to express the passion and the heritage of each of us.